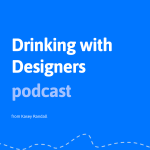 What happens when Kasey sits down with three Creative Directors and drink a New York gose? You get great conversation tackling design, human psychology, customer experience, design skills, career advice, and a deep dive into the obscurity that is creative direction…
Resources & Links
Featured Guests: Richard Bloom, Courtney Beglin, Vince Wanga
Featured Compaines: Huge, Pacify/Advantia, Morning Consult
Featured Beverage: Graft Farm Flor

Please Note: Sorry for any issues with sound quality. This episode was recorded outside in an open space. Learning as we go!